Wanganui Branch History
INDEX < Prev 5 6 7 8 9 10 11 12 13 14 15 16 17 Next > ..... 40
Mr Ken Lambert 2BR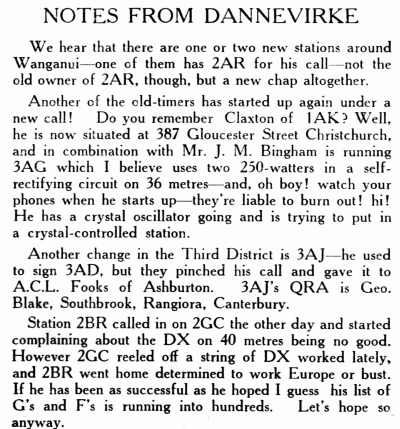 Wanganui's first Amateur
Wanganui's first private experimental amateur transmitting call was allocated to the operator of the YMCA 2AH station, Mr Ken Lambert as 2BR, to be joined later by Alec Rennie 2AR and Charlie Berry 2BY.
Your Editor couldn't quite get a handle on this statement as he expected the callsigns to be filled as they went through the alphabet.
The AWA listing of 1926 Amateurs had a few 'holes' in the few listings of that time.
A-ha I thought but, eventually, this following item came to light (See Box Right) so 2BR definitely was the first!



Extract from New Zealand Radio 4 September 1926
INDEX < Prev 5 6 7 8 9 10 11 12 13 14 15 16 17 Next > ..... 40