Wanganui Branch History
INDEX < Prev 1 2 3 4 5 6 7 8 9 10 11 Next > ..... 40
This certainly cut down the plate supply but it thus avoided over­loading the tubes. To avoid accidents they also used two 60 watt lamps in series in the plate lead. No ordinary earth was used on the set, but the negative side of the plate supply was earthed. Reports of good reception have been received from Russell in the Bay of Islands to Waiwera South, near Invercargill, and many places in between.
On the 6th, 7th and 8th of December the Club held another exhibition of apparatus, which was quite well attended by the amateurs and general public. Some very fine sets were exhibited ranging front miniature crystal sets to Armstrong super-hetrodyne three valve sets. Prizes were given for the following competitions, the winners' names being shown:

Best crystal set.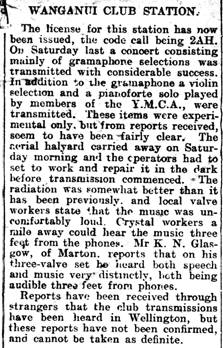 M Oliver 1, E Holst (later ZL2CO/ZL4DE/ZL2DK) 2;
Smallest crystal set:
N Hopper (later ZL2GH) 1, R Barton 2.
Best single valve set:
E Handley (later ZL2AIT/ZLZL2JR/ZL1FV) 1; M Tingey, 2.
Best multi valve set: W.G. Cooper 1, K Lambert (later ZL2BR) 2.
Best essay on the subject, Radio in Home: M Pilcher 1, E Holst 2. (Eric Holst, was a Gonville School student at this time.)
During the exhibition transmissions were received on several of the sets and made audible on a loud speaker. Altogether somewhere near six hundred people visited the exhibition, and after paying expenses the Club funds benefited to quite a considerable extent. Up till now the Club has had to borrow a gramophone for transmitting, but with the funds in hand a good machine could now be purchased. The membership of the Club stood at about 75 at the end of 1923 and the number was increasing every day. For the population that Wanganui was at that time the Club was of the opinion that this number was greater than any Club in New Zealand. This was put down entirely to 'The hard work of its committee and members, and it shows what can be done if the enthusiasm is there.'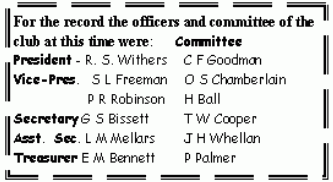 The Wanganui Amateur Radio Club station was operating under the callsign 2AH (issued to Mr K Lambert) and, with Roy Withers and Rowe Robinson as operators, broadcasted from 8pm to 10pm each Tuesday and Saturday. The first broadcast was made on July 16th 1923 and, following a meeting on September 8th 1925, the station was reluctantly closed down due to "the exorbitant fee charged by government" and also "the government would not contribute toward the expenses of running the station."
It was also suggested that 2AH was having manning problems as well by this time.