Rodney (Rod) Peter Greene, ZL2ACE
SSGT 708243 RNZ SIGS
He then setup his own business, Rojen Distributors, wholesaleing components (and whilst en-route on his sales trips, visiting ham shacks!)
During many of these years Rod's equipment consisted mainly of Home-brew or seriously modified commercial offerings.
Rod kept himself busy designing and building equipment and HF and VHF antennas as well as maintaining his shack's equipment. He also took time out to 'Elmer' a few of the locals.
He embraced PSK 31 and Slow Scan Television but still found time to operate genuine AM as well.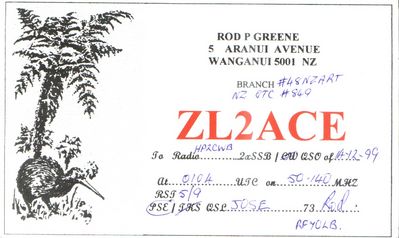 Drake line as well as an Icom 751 made up some of the operating equipment in the Aranui Street shack whilst a TH5 and a 6 element RAI Beam developed by Rod, with advice from WA7RAI, graced the skyline.
To celebrate his 70th birthday in February 2002 as well as 50 years a licensed amateur (8 November 2001) Rod announced to the February Branch 48 meeting that to celebrate these auspicious milestones, he would make a donation of Batteries to Back-up the proposed Wanganui Branch 'National System' link.
Rod was issued with his OTC 60 year certificate acknowledging his sixty years as an licenced amateur radio operator (8 November 1951 – 8 November 2011) prior to last Christmas and celebrated his eightieth birthday on 15 February this year.
Unfortunately Rod's health had been in decline with several hospital visits over the past four months or so.
Jennifer and Rod, who married in 1976, shifted to their present Wanganui QTH in 1989.