More Details...
2011/11/29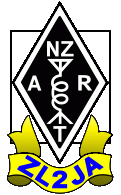 Increase in Amateur Power Limit
As announced by our President, Roy Symon, ZL2KH, in the November Official Broadcast, NZART is pleased to advise members that Radio Spectrum Management has agreed to our request that the general power limit for Amateur bands be increased.
From 30 November 2011, the power limit for most bands will rise from 500 watts to 1000 watts peak envelope power (pX), as defined in ITU Radio Regulation 1.157. The only exception to this increase is for those bands (130 to 190 kHz, 505 to 515 kHz, 26.95 to 27.30 MHz and 921.00 to
928.00 MHz) which currently have lower limits and, in these cases, the current limits will continue to apply.
This is a very satisfactory conclusion to the HBARC Remit to the 2011 NZART Conference and will assist NZ Amateurs to:
* participate in weak signal work including EME, meteor scatter, DXing etc;
* remain competitive, despite our remoteness, when participating in contests.
For further information on licence conditions, please see the updated Amateur General User Radio Licence (GURL) on the RSM website:
http://www.rsm.govt.nz/cms/licensees/types-of-licence/general-user-licences/amateur-radio-operators
Don Wallace, ZL2TLL, NZART Administration Liaison Officer
---